What is the CO2 performance ladder?
The CO2 performance ladder is an instrument with which customers and stakeholders can clearly see what a company is doing to prevent CO2 emissions. The CO2 performance ladder focuses on energy savings, CO2 reduction in the chain and the use of sustainable energy.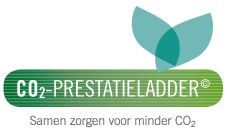 The higher up you stand on the ladder, the more you're achieving as a company. And the greater your impact in society. There are five levels. AVR has set itself an ambitious goal and would like to reach level four of the five. For our customers and stakeholders, the CO2 performance ladder is a familiar measuring instrument. Therefore as a company we have decided to use the CO2 performance ladder and demonstrate just how sustainably we work.
And SKAO?
SKAO – the Stichting Klimaatvriendelijk Aanbesteden & Ondernemen [Foundation for Climate Friendly Procurement and Business] – is responsible for administering and further developing the CO2 performance ladder. For more information about the foundation and the (requirements and levels of the) ladder, see: www.skao.nl.