Annual Report 2018: Building and investing for a sustainable future
2018 was all about building and investing due to some eye-catching projects: Our biomass plant was converted in such way that apart from electricity it also supplies steam and heat. This way the energy efficiency increases considerably and we provide our customers with more sustainable energy.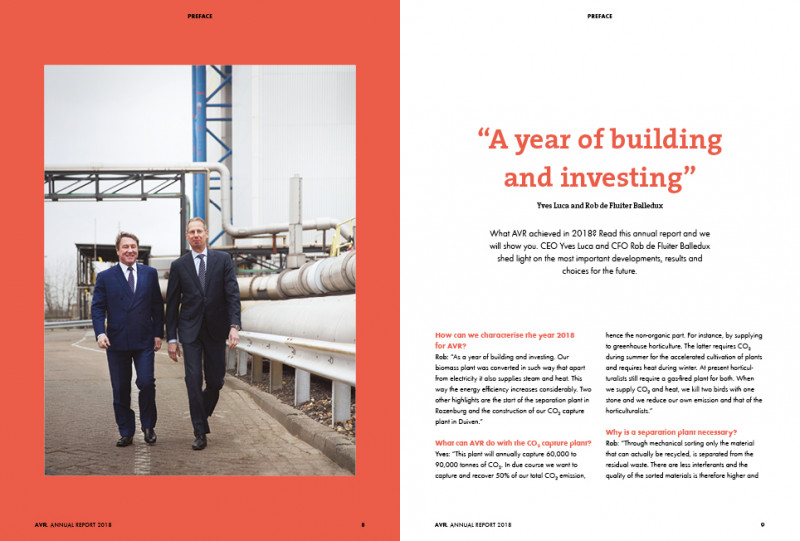 AVR finalised the construction of the plastic separation plant in Rozenburg, which extracts valuable plastics, foil and drink cartons from residual waste collected by the municipalities of Utrecht, The Hague and Leiden. The separation plant was taken into operation in December 2018. This year, Rotterdam's residual waste will also be separated by AVR. In 2018, we also started the construction of a CO2 capture plant in Duiven with a strong ambition: from 2019, we will extract 60 to 90 kilotons of CO2 from the flue gases and supply this CO2 to the greenhouse horticulture. In Rozenburg, a feasibility study was also started into the construction of a second, even larger CO2 capture plant.
Smart partnerships
AVR makes these investments partly thanks to long-term partnerships. For example, a ten-year cooperation agreement with the Afvalfonds Verpakkingen has helped us build the separation plant, and Air Liquide is responsible for the offtake of the CO2 from our CO2 capture plant on a long term basis. The customers who use the energy we produce by burning residual waste also enable us to continue to invest and innovate. And our shareholders? They strongly support our choices.
Operationally challenging
Operationally, 2018 was a challenging year. The long, abnormally warm summer had negative consequences for many sectors, including AVR. Because of the heat, the residual waste was drier than normal, as a result we processed less residual waste and the supply of heat reduced. In addition, there were more unplanned stops than usual. All of this weighed to some extent on the results. Nevertheless, turnover, operating profit and net profit were up compared to 2017.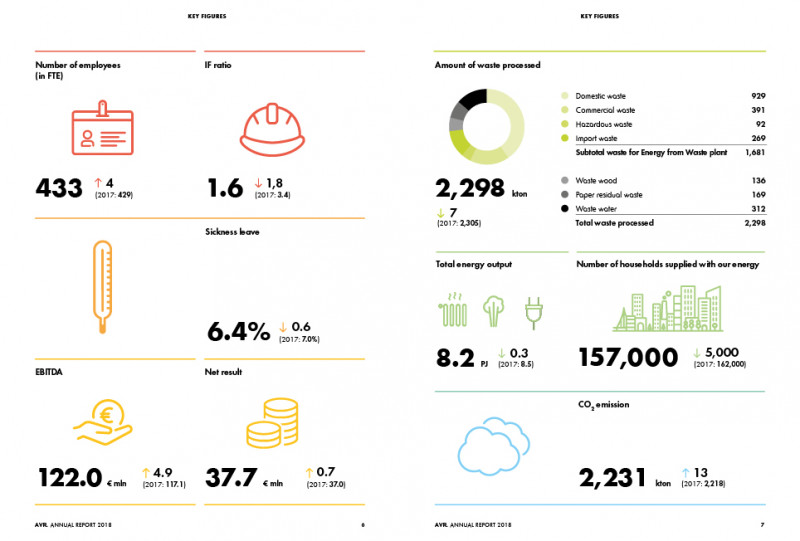 Integrated reporting
Emissions, renewable energy, sustainable employability of employees, recycling, innovation, compliance, reliability, a safe working environment and financial stability: these are the main themes that we present in this Annual Report. Themes that have been identified together with our stakeholders. For the first time, we are doing this according to the so-called 'integrated reporting' standard. With this report AVR is taking the next step towards integrated reporting.
Digital annual report
Would you like to know more about how AVR contributes to a sustainable society on a daily basis?
Read or browse through our digital annual report.